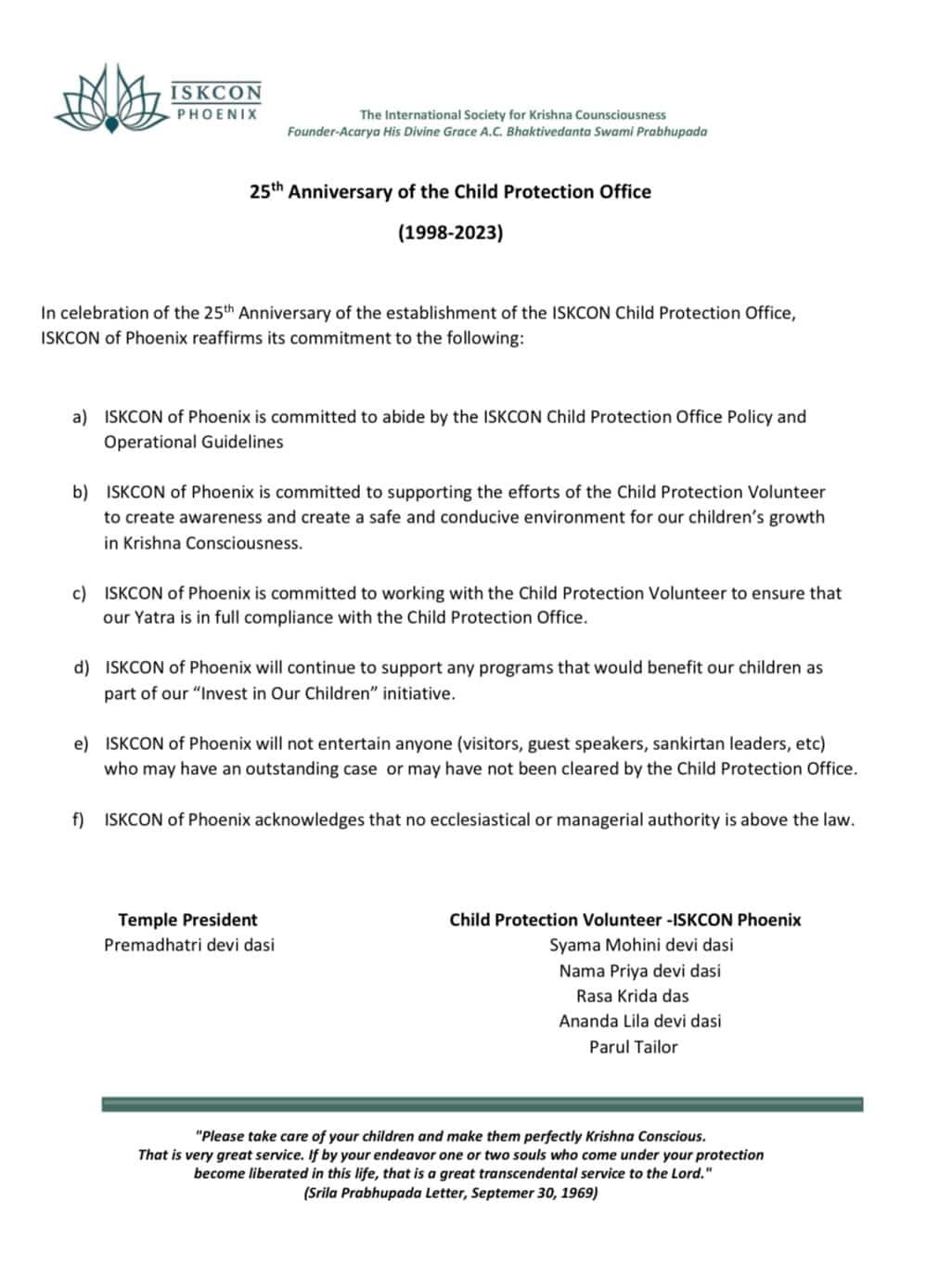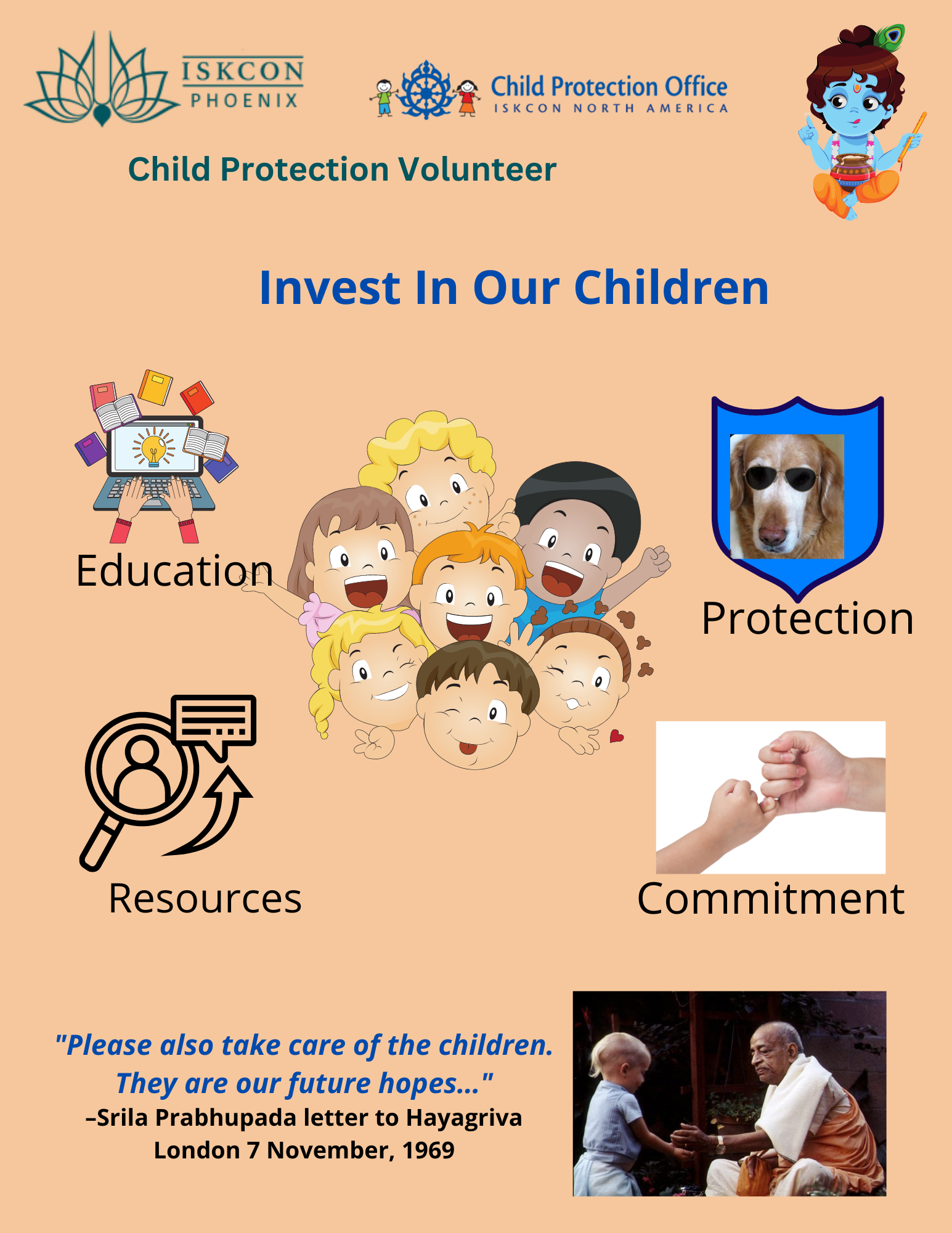 Communication from the Child Protection Volunteers ISKCON Phoenix – 04/23/2021
Hare Krishna!
Dear all,
I pray this letter finds you in good health, both physically and spiritually.
As physical distance continues and more virtual communication increases, it is important to ensure the safety of our children while using computers or smartphones. ISKCON's Child Protection Office has shared the following important tips. I am just going to add a note regarding privacy issues in various social media platforms. Many of us have different media accounts, and at various times, they encourage us to play games, like choosing our favorite colors, animals, etc, with the pretext of "finding out" what kind of person we are according their "test". What we end up giving is some personal information, who we are, what we like and even how we think. So, next time a pop-quiz appears on your screen, think if the information you are about to give about yourself is worth sharing, and the same when it comes to children.
Right In Your Own Home – Cyber Safety for Youth
Keeping children safe requires adult supervision and guidance throughout a child's development in all areas of life, including school, recreation, home and within spiritual community. We tend to have our guards down at home considering it a safe space. Giving children access to the world wide web allows people and experiences that necessitate adult monitoring right into your home.
Open conversation between adults and children about online safety is more imperative now than ever with kids learning at home and depending on technology to connect them to their otherwise-distant friends, family, and teachers.
In addition to the potential threats of digital viruses, malware, phishing scams, loss of privacy and gaming addiction, children could be victims of cyber bullying, inappropriate content and predators. As the days turn into weeks and months of life at home, here are some practical suggestions to minimize online risk.
Monitor your child's device(s): Consider spot-checks. Review privacy settings on social networks. Look for any new apps that have been installed. Review their browsing history. Consider adding parental control software.
Have open discussions about content: Online safety conversations look dramatically different depending on the age of the child. However, no matter what the age, discuss expectations and family values around acceptable content — both sharing it and receiving it. Having age appropriate discussions with your child about their interactions online can help ensure they are having safe, healthy, respectful experiences.
Keep software and apps updated: Keeping device software and apps updated protects users from outside risk.
Moderate the use of technology: Children can lose their entire day surfing, gaming and watching videos. Establish screen limits, schedule device breaks, no phone zones (during meals, family worship, bedtime) and install software that features time limits.
A firewall can help block would-be attackers from gaining access to one's PC and home network. Comprehensive security solutions protect devices from malware and other threats.
Address peer pressure: Kids may share personal photos with friends that are inappropriate. Compromising photos can be used for bullying or blackmail. Discuss peer pressure with your child and how to respond. Remind them that nothing shared online is private.
Look out for scams: Talk about the many forms scams can take, such as phishing, malware, catfishing and clickbait.
Don't friend strangers: Predators create fake social media and gaming account profiles specifically to befriend children. They manipulate children to share their personal information, plans, and location. Discuss these risky scenarios and be aware of your child's friend circles. Be aware of what kind of chat apps your child is using.
Maximize privacy on social profiles: Help kids maximize privacy settings on social profiles. Delete any profile or post information that unintentionally gives away personal data such as the names of family members, pets, school, hometown, and birthdays. Hackers can piece together this information to crack passwords or create authentic-looking phishing scams.
Consider a family VPN: When using a public network or unsecured home network, Virtual Private Networks are a popular way to safeguard a family's online activity from outsiders. VPN encryption can protect a child against several virtual threats.
For more detailed information on a wide range of topics from age-specific online safety to guides on how to set parental controls on a range of devices, visit https://www.internetmatters.org/
For more information on ISKCON's Child Protecion Office, please visit http://safetemple.org
ISKCON Phoenix is holding online programs for children and adults to keep in touch and to keep our faith strong. If you have not joined any of these programs, I invite you to check them out. For information please visit our Facebook Page or website.
Please email me at smdd@cox.net if you have any questions.
Thank you and stay strong in faith!
Your servant in the service of Srila Prabhupada,
SyamaMohini devi dasi
CPV-ISKCON PHOENIX

Child Protection Volunteers
ISKCON
ISKCON PHOENIX – Child Safety Policy
ISKCON PHOENIX welcomes children of all ages. Please help us keep the temple a safe andpleasant place for everyone by adhering to the following:
A parent or guardian must accompany and supervise children at all times.
Please help us provide a safe space while visiting ISKCON PHOENIX by providing an activity for your child while in the temple room, as well as remaining with your child at all times
Please talk to your children about the danger in talking to strangers and teach that it is ok to call for help.Children should always feel secure and should be able to communicate without feeling insecure or embarrassed.
If your child is attending a program at the temple, please pick up your child from the classroom.If your child is enrolled in our Sunday School program, the children will be released in the temple room. If you will not be in the temple room by the time the children are dismissed, then please pick up your child from the classroom before the end of the class.
Help children understand how to behave with respect in the temple room;not to damage musical instruments; where to play and where not to play.

Where to play:designated playing area is located on the North area of the temple(swing set area).
Where not to play:Tulasi pavilion; flower beds; in the parking lots/driveways; climbing/breaking trees, running in the temple room, bathrooms, prasadam room.

For safety reasons children bicycling, skateboarding, and riding on scooters is not permitted on temple grounds.
Children are not permitted entry into:
a)Ashrams (resident rooms)
b)Kitchen
Children may look at but are restricted from picking flowers.
Temple residents and staff are not responsible for unsupervised or unaccompanied children.
If a temple resident or staff becomes aware of an unattended child they will try to contact a parent or legal guardian. If unable to locate parent/guardian appropriate authorities will be contacted.
By following these guidelines for a safe visit to SriSri RadhaMadhavahari dhama (ISKCON Phoenix) you will help ensure a pleasant time for everyone.
"These children are given to us by Krishna, they are Vaisnavas and we must be very careful to protect them. These are not ordinary children, they are Vaikunta children, and we are very fortunate we can give them a chance to advance further in Krishna Consciousness. That is very great responsibility, do not neglect it or be confused. Your duty is very clear."
-Srila Prabhupada